NEABPD, Israel in the News
January 2020
Speaking before the staff of Clalit's Outpatient Program at the Talbiyeh Center for Mental Health about the Family Connections Program
November 2019
Speaking before the staff of Harei Yehuda-Tsur Haddasah Riding Therapy Program
October 2019
Speaking before the staff at Hadassah Ein Karem Hospital's Eating Disorders Unit (In-Patient and Out-Patient) on "The DBT Basics of Family Connections and Their Application to the Families of Eating Disorder Sufferers"
April 2019
Speaking before an audience of 400 clinicians at The Israeli Society for Community Mental Health conference on the topic: "Coping with BPD in the Family and Empowering Family Members through DBT."
March 25, 2019
Presentation to hot-line staff about identifying and understanding the impact of BPD at the Jerusalem branch of Magen. See the following letter of thanks: מכתב תודה למשולם גוטליב
March 16, 2019
In collaboration with the Vaad Tarbut BK Feigenson and the Meyerhoff Community Center, the Israeli NEABPD screened "My Mom Is Not Crazy" in Bet Shemesh to an audience of over one-hundred people and followed up the screening with a conversation with the film's director, R. Mordechai Vardi.
March 15, 2019
The Israeli NEABPD is running in the Jerusalem Marathon for the second year in a row. For last year's run, see March 2018 below. This year's marathon takes place on March 15, 2019. To join our team or sponsor a runner, click on the following link: https://my.israelgives.org/en/campaign/NEABPDJerusalemMarathon2019
Pictures of Marathon Day!
February 2019
Presentation to clinicians as part of the Boston Child Study Center (BCSC) DBT Training Session at the Geha Mental Health Center. The presentation introduced the clinicians to the NEABPD, Israel's work with family members, offered a family member's perspective on living alongside BPD, and explained how DBT skills can also help family members to cope and even enhance the quality of their lives.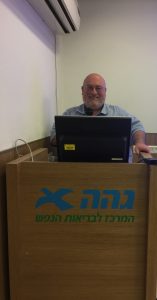 January, February, March 2019
Three presentations to ESRA counselors in Netanya to familiarize them with our work, BPD and its treatment options, and DBT.
October 2018
In collaboration with Nefashot, the Israeli NEABPD kicked off mental health week with a special screening of "My Mom Is Not Crazy" on October 11, 2018 at the Association of Americans and Canadians in Israel (AACI) in Jerusalem. The heroine of the film, Amira Raanan, gave an inspiring and informative talk and engaged the audience after the screening. (This event also doubled as the first of our well-established, monthly, Family Connections alumnae/i meetings!)
June 2018
As part of the international NEABPD family, our courses are advertised on the American NEABPD website.
https://www.borderlinepersonalitydisorder.com/a-new-psycho-education-skills-and-support-group-for-family-members-of-those-suffering-from-borderline-personality-disorder-and-severe-emotional-dysregulation-is-opening-soon/#more-214250
May 2018 
Presentation at Milam, Jerusalem "Breaking Through Stigma" Event reported in Local Press
"One family member [who spoke]….has learned in his journey to make lemonade out of lemons. Dedicated to helping his daughter he learned DBT (Dialectical Behavior Therapy) skills, which helped him tremendously in coping with his own situation and now he is sharing what he has learned with other parents [and other family members] through a group called the NEA.BPD [a non-profit organization that he co-founded]."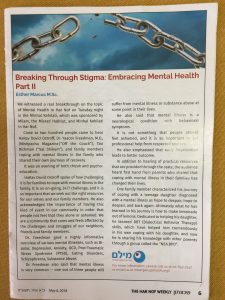 March 2018
As part of the international NEABPD family, we also receive exposure on the American NEABPD website. Check out the following link about the Jerusalem Marathon (including the letter below): https://www.borderlinepersonalitydisorder.com/dear-family-and-friends-of-the-neabpd-israel/#more-212059
Dear Family and Friends,
I have decided to run in the Jerusalem marathon this year (March 9, 2018) to support the Israeli NEABPD – The National Educational Alliance for Borderline Personality Disorder, Israel.
Over the last year and a half in the IDF, I have run thousands of kilometers in full combat dress, but these kilometers will hold a special place in my heart. As I run up and down the hills of the city where I was born, the city of David and Solomon, of the Holy Temple, my heart will beat to the rhythm of Jewish history.
At the same time, my heart will also beat for those suffering from Borderline Personality Disorder (BPD). Those, like my sister, who suffer from BPD run a marathon every day, struggling with their emotions and battling their fears, as they strive to lead a life worth living. Tragically, ten percent of those sufferers end their own lives. Many others lead exceedingly difficult lives burdened by their enduring pain, emotional dysregulation, and deficit in relationship skills. Compounding this is a devastating stigma that often leads to inadequate treatment and care. As my family has learned, with appropriate care and support, however, BPD sufferers and their families' lives can be changed.
My parents along with mental health professionals and other family members of BPD sufferers established the Israeli NEABPD to help both the family members and the sufferers. Having witnessed the effect of the disorder on the various members of our own family, my parents felt that it was crucial to help other parents and family members obtain the necessary knowledge, skills, and support so that they could effectively help themselves and their loved ones. By helping family members "put on their oxygen masks first," the Israeli NEABPD empowers family members, helping them understand and better cope with the challenges they face, so that they can improve the quality of their own lives and so that they can advocate effectively for their loved ones. Please help me, help all of them.
With all my heart,
Netanel